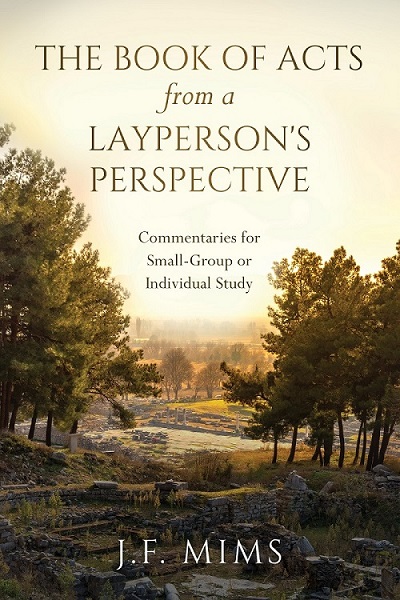 The Book of Acts from a Layperson's Perspective (BALP) brings a fresh perspective to the study of Acts. The author wants readers to attain a high level of appreciation of Acts as an early-Christian history book and trusts that they will have the pleasure of discovering the episodes and events surrounding Paul, Peter, and other believers, either in a small group Bible study or individually.
What the BALP is not is a scholarly commentary. An Amazon.com book description for an Acts commentary made this statement, "The interpretation of Acts requires a scholar of the highest quality." With all due respect to Bible scholars, no. A lay reader, especially one new to the Bible, wants to be able to read some passage in Acts and gain an understanding of it without having to be a Ph.D. A layperson familiar with the Bible wants a plausible explanation for that passage.
The BALP is written by a layperson for laypeople and does not theologize. The book offers a straightforward meaning to the Scripture passage. It applies cultural and historical context to the verses where appropriate. The book has a simplicity in its presentation without being simple or insulting. With reasonable interpretations, the BALP shows the founders of Christianity as human beings before they became Saints.
The BALP is designed, through sufficient basic research, to facilitate a leader's development of a small group Bible study class, giving the leader the greatest flexibility in establishing the objectives and goals for the class. The BALP is a guide in one's study of the book of Acts designed to provide an individual with ideas for personal use.
This book is the author's way of witnessing to others and encouraging them to explore the Bible, especially the book of Acts, to develop or expand their own faith in God. The author wants The Book of Acts from a Layperson's Perspective to be an inspiration to that curious learner who is striving to accomplish John 20:29.